Understanding Furnace Life Expectancy
A furnace is a significant investment in your home, and understanding its life expectancy helps in proper maintenance and planning for eventual replacement. Typically, a well-maintained furnace can last between 15 to 30 years, providing consistent, comfortable warmth throughout your home. Despite its age, a furnace can experience technical issues that can impact its performance and energy efficiency. This is where K&M's expertise becomes invaluable. Our team is proficient at identifying early signs of furnace problems, providing preventive solutions, and executing necessary repairs to extend its lifespan.
Manufactured or Mobile Home Furnace Replacement
Manufactured or mobile home furnaces often have specific needs that differ from those of regular residential units. They're usually smaller, compact, and require specialized venting and fuel types. At K&M Heating & Air Conditioning, we understand the intricacies and unique specifications of mobile home furnaces. Our technicians are equipped with the right knowledge and tools to provide effective installation, maintenance, and repair solutions tailored to these systems. Ensuring your mobile home remains a comfortable and warm space year-round.
Furnace Replacement with Local Experts
When your furnace reaches its life expectancy, replacement becomes inevitable. During such times, you need the trusted services of a local expert like K&M. Our certified technicians not only provide comprehensive replacement services but also offer expert advice on the best replacement options, considering factors such as your home's heating needs and your budget. We will guide you through the entire process, ensuring a smooth and hassle-free experience. Remember, opting for a more efficient furnace can significantly lower your heating costs in the long run, making it a worthy investment.
Proud Ruud Pro Partner
At K&M Heating & Air Conditioning, we're not just another HVAC service provider, we're a proud Ruud Pro Partner. This status demonstrates our commitment to excellence, upheld by consistent customer satisfaction ratings. As a Ruud Pro Partner, we have access to top-tier Ruud products, renowned for their reliability and cutting-edge technology. We're also trained in their specific installation and service procedures, ensuring that every Ruud product we handle performs at its best. When you choose K&M and Ruud, you're choosing quality, efficiency, and peace of mind.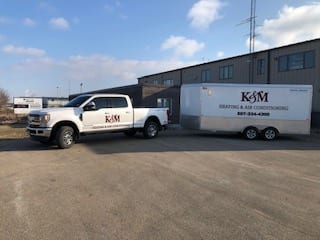 ---
Recognizing When It's Time for AC Replacement
It's important to know when it's time to replace your air conditioning system, and understand the certain signs that indicate it, because it might be more cost-effective to replace rather than repair. These signs include an AC unit that's over 10-15 years old, a significant increase in your energy bills, consistent performance issues, or frequent need for repairs. At K&M Heating & Air Conditioning, we can help diagnose your system and provide an honest assessment of whether a repair or complete replacement would be the most effective solution. Our team of experts is committed to helping you make informed decisions about your home's cooling system.
Manufactured Home Air Conditioning System Replacement
The replacement of air conditioning systems in manufactured or mobile homes comes with unique considerations. The compact size of these homes, along with special venting and cooling needs, require specialized AC units. At K&M, we understand the intricacies of cooling systems for mobile homes. Our experienced technicians are well-versed in choosing the right units for these homes and ensuring proper installation and maintenance. We're dedicated to ensuring your mobile home remains a cool and comfortable refuge during the hot months.
Trusting K&M with Your AC Replacement
Air conditioning replacement is a significant investment. Trusting local experts like K&M Heating & Air Conditioning ensures that you're making a wise decision. Our team of certified professionals will guide you through the entire replacement process, providing you with the best options that suit your cooling needs and budget. Moreover, as a proud Ruud Pro Partner, we offer access to high-quality, energy-efficient AC systems known for their reliability and longevity. Whether you're replacing an old unit or installing an AC system in a new home, you can trust K&M to deliver excellent service and ensure your home stays cool and comfortable year-round.
If you're interested in learning more about our heating and air conditioning services, simply give us a call at 507-334-4300 today.
Contact Us
Call us at 507-334-4300 for your residential and light commercial HVAC system needs!
K&M Heating & Air Conditioning
Our company is committed to providing outstanding customer service for HVAC system, water heater, furnace, and fireplace needs including installation, maintenance, and repair.
Phone
507-334-4300
Address
3105 Industrial Dr
Faribault, MN 55021